After more than 14 years in the industry, Andrew purchased his first concrete pump in 2012.  Easy Reach Concrete Pumping was born.
ERCP 1-42: 42m Concrete Placement Boom
Our 42 metre concrete boom pump is renowned around Townsville as "Migaloo."  Migaloo is one of the largest and most versatile concrete pumps in Townsville due to its large reach and small footprint.  As a result, this truck can be working on a large infrastructure project and seamlessly move onto a small house slab or footings.
ERCP 2-40: 40m Concrete Placement Boom
In 2013, Easy Reach Concrete Pumping purchased a second concrete pump with a 40 metre boom.  Like "Migaloo" it is one of the larger pumps in Townsville and North Queensland.

ERCP 3-32: 32m Concrete Placement Boom
A 32 metre, 5 stage boom with 5″ pipeline and a 170 cubic metre pump module was added to our fleet in 2015.  This is the pump you need when space is an issue.  It is perfect for more confined spaces such as inside industrial sheds.
ERCP 4-52: 52m Concrete Placement Boom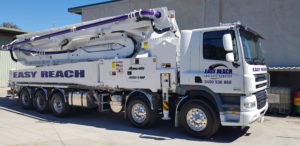 January 2019 has seen the addition of our newest concrete pump, a brand new 52m concrete placement boom.  Now the largest concrete pump in Townsville, this truck is suitable for large scale projects.
Air Compressor for Shotcreting
Easy Reach customers can wet hire our concrete pumps for shotcreting.  We also supply our own air compressor.
Line Pumping
We haven't forgotten our customers that need line pumping!  All of our pumps are capable of performing line jobs including 20 mill.  We also have the capacity to perform a 200 metre push.  Andrew Trezona works with site supervisors and project managers to problem solve large and challenging set-ups.  Additional equipment and labourers are provided as required.
Boom Specification Fact Sheets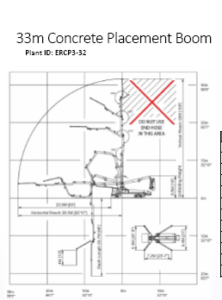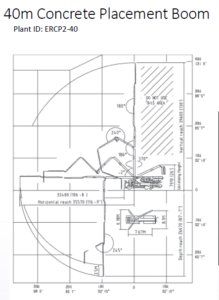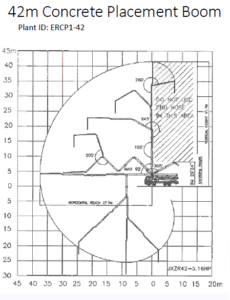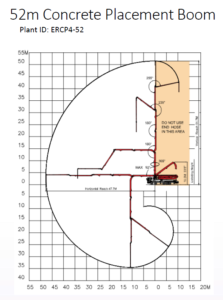 32ESY Specification 40ESY Specifications 42ESY Specifications 52ESY Specifications